Funeral Flowers for York & Yorkshire
Funeral flowers are as individual as any other flowers. You can choose from a wide selection of traditional, contemporary, modern and biodegradable floral designs; requesting flowers or colours that hold particular significance.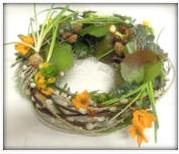 All details can be taken care of on your behalf, from liaising with the funeral director to ensuring your flowers are prepared and delivered in accordance with your wishes.